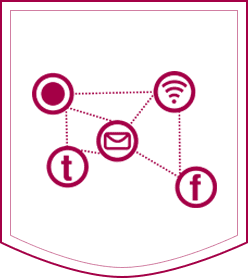 With millions of daily active users, social media's power is undeniable!
"I know I need to be on social media, but I do not know which platforms to use or what to post."
"I don't have time to post on social media. I have to run my business."
For many businesses and industries, social media outreach is an integral part of public relations strategy. Your potential customers or followers most likely have social media accounts and are active on them. By putting your brand and your messages in front of them, your PR value can grow exponentially. It's not enough to be "on" social media. You need to curate and share quality content that relates to your audience, educates them and promotes a culture centered on your brand. Debbie Goetz Media Connections will help you curate content and develop a content calendar that you can use for all of your social media platforms, as well as for your blog and email marketing activities.
Connect with the press
In addition to connecting with customers and prospects on social media, you can connect with journalists and media outlets. Journalists often use social media as a source of information to enhance existing stories, for the entire basis of new ones, and even to find experts to interview. Things like Twitter trends and #hashtags are constantly receiving news time. If your story has good content and uses the latest techniques to appeal to large audiences, media coverage will come.
At Debbie Goetz Media Connections, social media is one of our areas of expertise. We will evaluate your business activities and help you determine which social media platforms make the most sense for your business. We can provide recommendations for you to implement yourself or we can be your "one stop shop" for social media services: setting up your social media profiles and company pages, finding followers, connecting you with experts and thought leaders in your field, curating content and sharing your content to help you engage with your audiences and get noticed!
Social Media Training
We've said it before, it's not enough to be "on" social media. Your team needs to use social media effectively to enhance your organization's brand and promote its products, services and activities.
Are your executives and staff on LinkedIn? Do they know how to update their profiles? Could they benefit from some group or one-on- one training? Contact Debbie Goetz Media Connections today to schedule a hands-on, personalized training program at your location.
Our clients have been features in regional and national outlets including: