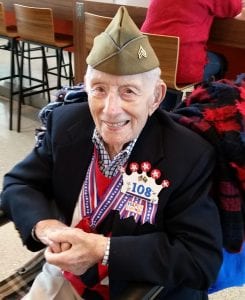 Background
Our client, Sgt. Bill Mohr, age 108, was the second oldest World War II veteran in the US when his family came to Debbie Goetz Media Connections in July 2016 and said that "Pop" would like to meet the President of the United States. DGMC had done some media relations work for the Mohr family when Bill celebrated his 104th birthday and when he visited a local elementary school on Veterans Day 2013.
Client Profile
Bill was born on Oct.22, 1908 in Philadelphia, the same year the Cubs won the World Series for the first time. In 1940 Bill enlisted in the Army. He was honorably discharged in 1946. In 1943, Bill met and ultimately married his life long sweetheart and partner Josephine (Josie). Josephine, died in 2015 at age 98. They were married for 72 years. Bill and Josie had four children – three boys and a girl. Bill and Josie raised their family in a tiny cottage in Hatboro that Bill built in 1948. He also has 5 grandchildren, great-grandchildren and great-great grandchildren.
Challenge
The challenge was to secure an invitation for Bill to meet President Obama either on Veterans Day for the White House annual Veterans Day breakfast or another day that would fit the outgoing President's extremely busy calendar.
Strategy
Our strategy was to connect with the White House and any legislative offices where Bill was a constituent to request assistance in securing an invitation for Bill to the White House. We reached out to Senator Bob Casey's office and U.S. Rep. Mike Fitzpatrick's office for assistance.
DGMC suggested to the Mohr family that we have a military send off for Bill at his home in Hatboro, PA the day before the breakfast, as well as a hero's welcome at the National World War II Memorial in Washington, DC. We also reached out to the VFW headquarters in DC and the Office of the Undersecretary of the Army to help arrange the hero's welcome for Bill in DC.
Results
The White House declined our request for a visit, but in persevering with Senator Bob Casey's office, we were able to secure an invitation for Bill to attend the Veterans Day breakfast. We received official notification six days in advance and secured clearances for Bill's two children to accompany him. We were also able to secure clearance for their vehicle to enter the White House grounds, a privilege not extended to many.
DGMC coordinated media relations for the send off in Philadelphia and for the hero's welcome in Washington, DC.
Bill's send off was covered by all 4 local TV stations, KYW NewsRadio, the Philadelphia Inquirer, the Intelligencer and many online news outlets. Local TV coverage and photos were shared by the stations with their affiliates across the U.S. Check out some of the coverage by clicking HERE.
Upon Bill's arrival at the WWII Memorial, our group was greeted by three Washington, DC television crews and a CBS News crew. They all covered Bill's poignant visit to the WWII memorial, as he was welcomed by members of Congressman Fitzpatrick's staff, representatives from the U. S. Army, the VFW and many local veterans, visitors to the monument and tourists.  The story was shared in print, radio and TV across the US and around the world.
Bill's visit to the White House was captured by White House photographer Pete Souza in an incredible photo of President Obama sharing a laugh with Bill and his family over their mutual love of Campbell's Soup. President Obama had asked Bill what the key was to his longevity. He told the President that he ate Campbell's Soup everyday.  Campbell's Soup heard Bill's story and proudly recognized Bill on their Facebook page for being a big fan.
Pete Souza's photo of Bill with President Obama became part of Souza's annual "Behind the Lens" series for 2016 and can be viewed at: https://medium.com/obama-white-house/behind-the-lens-2016-year-in-photographs-9e2c8733bbb3#.eq11xici2. The photos are in chronological order, so Bill's photo is near the bottom.
Sadly, Bill Mohr passed away on December 18, 2016, but not without fulfilling his lifelong dream of meeting a sitting President.
Upon Bill's passing, DGMC was tasked with writing and issuing a statement from Bill's family to share with the local, regional and national media. We coordinated the media relations for Bill's obituary and connected with the White House, Senator Casey's Office, Congressman Fitzpatrick's office, the VFW, the Undersecretary of the Army and all of the news outlets and legislative offices that so graciously welcomed Bill and his family to Washington, DC in November. Coverage of  of Bill's passing appeared in print, online and on television stations in Philadelphia and several cities across the country.
Our team at DGMC are incredibly proud to have made Bill's lifelong dream come to fruition. It was a privilege and an honor to get to know Bill and his family and be able to share his visit to Washington and amazing life story.
Testimonials
"Over the past few years, my family has worked with Debbie Goetz of Debbie Goetz Media Connections to provide media relations assistance for special milestones and events in my 108 year-old father's life. She adores my dad and fondly calls him "Papa Bill." This past summer we asked Debbie if she could find a way for dad to meet the President of the United States. She told us she would make it happen. And she did! Debbie worked with Senator Bob Casey's office to secure the invitation. She worked with Congressman Mike Fitzpatrick's office to coordinate a hero's welcome for dad at the WWII Memorial yesterday. Without Debbie's persistence and perseverance Dad would not have had this incredible, once in a lifetime experience. Debbie's work was outstanding; such a professional job. Her skill is only matched by her humanity. Thank you from the bottom of my heart."
Jodie H. (Bill's daughter)

* * * * * *
"I was fortunate to have attended the Veteran's Day Breakfast at the White House on November 11, 2016 along with my sister and father – Sargent Bill Mohr a 108 year old WWII veteran – and we had the wonderful opportunity to meet President Obama. Debbie Goetz was responsible for the media setup and coordination of not only the White House visit but several other media events the previous day in Pennsylvania and in Washington following the story of my father's trip to the White House. All were flawless in their execution because of her efforts. Thank you Debbie!"
Rick Mohr (Bill's son)

* * * * * *
"Debbie spent the past 4 months making a man's dream come true. This gentleman is Bill Mohr, 108 years young. He takes nothing for granted, appreciates all that is done for him, always has a positive attitude and a great sense of humor. Debbie pulled out all of the stops for Bill, contacting Senator Casey's office, Congressman Fitzpatrick's office, everyone she could think of. The day Bill went to the White House, Facebook, Twitter, LinkedIn, the Intelligencer, the Inquirer, NBC, CBS, FOX, ABC, were all on fire. Debbie arranged a tour of the WWII Veterans Memorial Thursday afternoon (11/10/2016) where Bill remembered friends and made new ones. (Bill was one of the oldest living WWII vets). His visit was captured by the DC media and by CBS News. Friday morning, Bill had breakfast with the President of the United States. Not only did Debbie make Bill's dream come true – she made a difference in the life of everyone Bill touched. From all of my heart, thank you Debbie."
Suzanne M. Hartshorne (Bill's granddaughter)

* * * * * *
"Deb delivers on her promise for effective and efficient media relations.  She handled a high profile White House visit for our 108 Yr old WW2 vet and father beautifully.  She diligently worked to maximize the event coverage.  Results — great coast-to-coast TV/ media coverage."
* * * * * *
"It was our honor to work with you. Thanks for making it possible and our best regards to Mr. Mohr. The photo with President Obama is priceless!"
Joe Davis (Director of Communications, Publications and Public Affairs, Veterans of Foreign Wars, Washington, DC)