Ernie Gross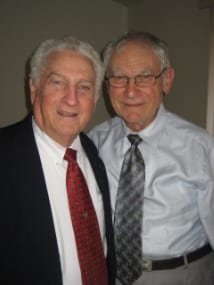 Background
Ernie Gross was born in 1929 in Turtz, Romania. His father was a salesman and his mother was a Romanian language tutor. He was one of nine children but two passed away in their infancy.
In April 1944, when Ernie was 15 years old the Hungarian government deported him and his family to the Seulish ghetto for three weeks and then to Auschwitz, where he lost his parents and younger siblings.  Within days he was sent to the first of several labor camps where Ernie spent nearly a year.  When he was no longer strong enough to work, the Nazis sent Ernie by train to achau.
On April 28, 1945, the train was stopped due to heavy bombing by American troops.  The train arrived at Dachau a day later than planned. On April 29, 1945, the same day that Ernie Gross arrived at Dachau, the American army liberated the camp.  Ernie was standing in line with other prisoners awaiting their death when they saw the German guards and soldiers throw down their weapons and flee. Ernie and his fellow prisoners were free!
Within his eleven month internment, Ernie lost five members of his immediate family and an unknown number of extended family members. Only two of his brothers and one sister survived.
Ernie spent the next several months in a displaced persons camp and in September 1947 finally immigrated to New York City and then Philadelphia to where his father's three sisters lived. He learned English and worked in various jobs to support himself. In 1957 he married his wife Bella Berger, who also survived concentration camps. Together with Bella, Ernie has three sons and two grandchildren. He earned his GED from Northeast High School and then worked as a business owner in several different business ventures including a grocery store in Olney, a janitorial service, a cafeteria in Germantown, a lunch truck at Temple University, and a grocery store on South Street in Center City.
In 1976 Ernie lost Bella to cancer.  He remarried in 1981 to Roza and gained three additional grandchildren. In 2009 he lost Roza to dementia. Ernie has remained active in his retirement reading the Torah and acting as Gabi at his synagogue and working occasionally as a courier and driver. He is a member of the US Holocaust Museum in Washington, DC, and has contributed a video archive for the Shoah Foundation at University of Southern California and an audio archive for Gratz College. He speaks at area schools, churches, synagogues and community groups, and impresses upon his audiences that even though people have differences, it is important to not hate and to understand that we are all equal.
Don Greenbaum
Don Greenbaum, 88 and still going strong, served in World War II as a forward observer, operating on the front lines.While he was in Colmar, France, a friend and fellow Wynnefield boy, Sidney Geller, died alongside him while they were on the battlefield.
Don was devastated by the loss and, throughout the war, he was haunted by that memory. When the war ended and Don returned home to Wynnefield, he couldn't bring himself to call Sidney's parents, since he had survived and their son had not. Having witnessed the horrors of the war at a young age, he could not emotionally handle such a conversation. Around the year 2001 Don and his wife Shelley attended a party at a home in Cherry Hill, N.J. As fate would have it, the home belonged to their friend's son-in-law, whose name was Sidney Geller. Don asked him if he was related to someone who had lost his life in World War II. The young man said that it was his uncle and that he was named for him. After all those years, at last Don was able to talk about it with the nephew of the deceased. It was an overwhelming and emotional meeting, and the young Sidney called his family to relate the story.
In April of 2011, Don's wife met another nephew of Sidney Geller, who was also named for his deceased army buddy.  This man wanted to know all the details of his uncle's death; he, too, called his family to relate the story. Redemption at last! A burden of all those years finally lifted after the coincidence of meeting two nephews of a young man who lost his life in battle.
Don earned a Purple Heart in Germany on Nov. 9, 1944, and after his release from an army hospital, fought in the Battle of the Bulge. Under the command of General George Patton's Third Army, he and the troops in his divisions (283rd Field Artillery Battalion) were among the first Americans to liberate Dachau concentration camp on April 29, 1945.
Don has spoken at Gratz College, at public schools and at synagogues about his experiences. The Shoah Foundation videotaped him, telling his story of being a liberator and how that experience has changed his life.
Don and his wife Shelley were invited to travel to Poland and participate in the 2012 March of the Living. Spending the week with students from around the world and other liberators was an unforgettable and life-changing experience.  For more information about the 2012 March of the Living, visit https://www.jspace.com/news/articles/march-of-the-living-day-1-touching-down-in-poland/8550.
Don's stories will live on and they must be told for generations to come. They never should be forgotten. His challenges throughout the war, including losing his friend Sidney, have taught him to appreciate all the wonderful little blessings in life.